As an interior redesigner, I am called upon to help clients who feel in a rut with their home interiors. Clients often say that they don't feel comfortable in their spaces, and may even feel embarrassed to have people over.
While the living room is often a design priority, it is the master bedroom that typically gets overlooked. Not to get too analytical about it, but the neglected bedroom can sometimes signal a need for revitalization in the area of love and intimacy, regardless of having a partner.
Your bedroom is an expression of your love for yourself and your partner, if you have one. Respecting and honoring this love has power to enhance the goodness and well-being in your life.
What better time than the week of Valentine's Day to design a more romantic bedroom?
Ideally, your bedroom should be an oasis from the rest of the house, and the world. Does your bedroom serve as a place of respite, relaxation and reflection, or is it a place where you just crash at the end of the day, with little consideration of your surroundings?
As a designer, there are immediate red flags I sometimes encounter in a bedroom that needs help:
1. Clutter. Since it is the place most off-limits to the rest of the world, a bedroom often serves as a handy catch-all. Clutter and mess symbolize unfinished business, whether it's unfolded laundry or bills. The same is true for a messy closet, even if the door is shut.
The awareness of this clutter and mess weighs heavily in the guilt of avoidance, as well as the anxious reminder of things to do. What's under your bed? We are sensitive creatures, and don't have to see things to be aware of their presence. If you did nothing else to enhance your bedroom, you will feel an immediate sense of simplicity and sanctuary just by removing visible clutter, as well as clutter in the closets and under the bed.
2. Pictures of relatives, other than you and your partner. Are great Uncle Fred's eyes following you from his photo on your bedroom wall or dresser? You don't have to be a master Feng Shui expert or psychologist to realize the negative impact of having many faces of family, friends and even pets staring at you in your bedroom. These faces may subconsciously trigger distraction, anxiety and worry.
In my years as a redesigner, I've often been met with the response, "What intimacy?" when I suggest the anti-intimacy impact of having so many relatives with you in your bedroom. I admit, as a widow of a 32-year marriage, I do have a photo of my husband and me next to my bed. I also have a picture of my kids and my granddaughters, so I am not the one to cast the first stone on the family picture issue.
This issue is more pertinent when solving problems when a bedroom feels unwelcome. Whether you are single or married, a bedroom with sad and lonely pictures isn't going to serve as a place where you feel love, harmony and inspiration. Pleasing art and pictures will go a long way to influence a cheerful and nourishing atmosphere.
3. Electronics. We live in an electronic age, but I recommend that you treat your bedroom as if it were 200 years ago. Think of your bedroom as a spa retreat. If you are serious about creating a sanctuary of bliss, I recommend removal of the television that mostly serves to distract and interrupt your precious time. Another intimacy-buster is an office in the bedroom with computer, printer, phone, fax machine and files.
How in the world can you relax, when business resides in the room defined for peace and love?
Exercise equipment in the master bedroom also gets a thumb's-down from me. If it's not covered with clothes, it serves as a reminder of "have-to" and "should-have". Treadmills and exercise bikes have their place in your home, but not the bedroom. Besides, do you really want your bedroom to smell like a locker room? Don't answer that.
Another point about electronics is that some studies suggest that the electromagnetic fields from televisions, computers, wireless devices and exercise equipment can interfere with the nervous system and disrupt sleep, even when not in use.
Likewise, smart phones look so small and innocent, but they can carry a hefty impact as a distraction of your space and time. More studies are indicating that staring at the lit screen of your smart phone or computer screen can also interfere with a good night's sleep.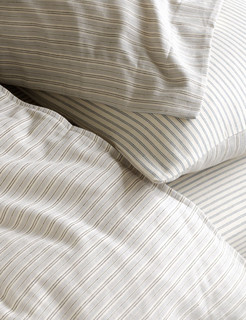 Now that we've dealt with the most obvious red flags, it's time to address redefining your sanctuary bedroom.
If your bedroom doesn't feel cozy and inviting, simple and inexpensive solutions -- such as painting your room -- can create a dramatic transformation. Imagine the comparison of a bedroom with bright red walls, versus a room with soft gray, smoky blue or vanilla colors.
The range for what feels most comforting in a bedroom can range significantly from person to person, and that's fine. For some people, bedrooms feel better when going after a cave theme, with dark walls and low lighting.
Yet others prefer the spa theme of open and airy, with light walls.
Bedrooms need good window coverings for optimum darkness, privacy and sleep. And then there's the actual bed. A definite must is getting the best, and most comfortable bed you can afford. We spend about 30 percent of our lives in bed, so why not make that 30 percent count? It's a worthy investment to splurge on the best quality natural fiber sheets, pillow cases and blankets that coordinate with your wall color.
If your bedroom is shared, it's important to have easy access to either side of the bed, with each having his or her own side table and lighting. A nice addition to a bedroom is having a lounge or seating area that helps reinforce the feeling of the bedroom as a suite, creating a place within your home that is a pleasurable refuge from the outside world.
Once you've made these modifications to your bedroom, you'll gain the benefit of getting to enjoy the sanctuary that will enhance your life, and a happy, peaceful, restful Valentine's Day that carries the feeling of love all year long.
Shelly Shively lives in Redding. She is Interior Re-design Network certified.  Among her specialties are real estate staging, furnishing vacation and new homes, and the art of interior "re-design" - where she transforms and refreshes clients' living spaces using their existing belongings. Shelly is also a freelance artist, illustrator and muralist.  To inquire about a consultation, she may be reached at  530-276-4656 or leinanishively@gmail.com